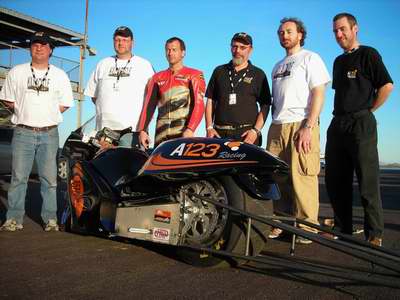 The KillaCycle is currently the quickest 1/4 mile electric drag bike in the world.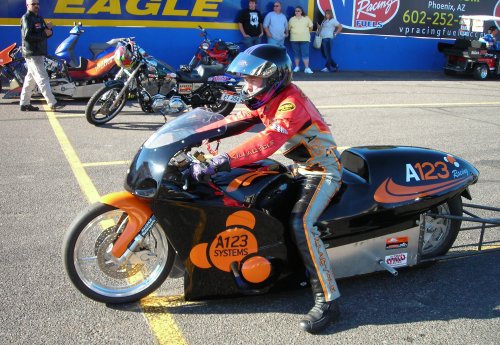 Recently, Scott Pollacheck did a record 8.083 second @ 163 MPH run at Bandimere Speedway in Morrison, Colorado.
The motorcycle is powered by 374 volts of electricity stored in 1210 small, but powerful, 'nano-phospate cells (batteries) provided by A123 Systems.

The cells are connected to provide 9.1 kWh of energy storage and are capable of supplying up to 1800 amps. The cells themselves weigh just 186 pounds.
The entire battery pack weighs just under 200 lbs yet puts out about 480 horsepower.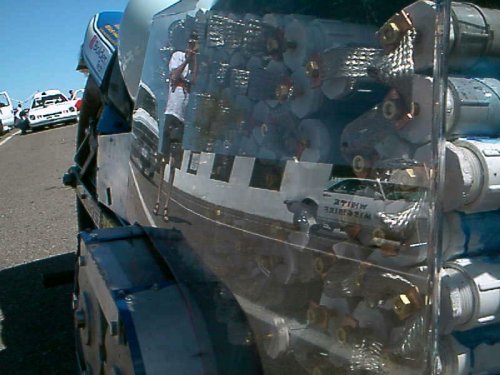 Batteries of this type and configuration require custom battery management controls to achieve optimum charging for peak performance levels and service life. Denver CNC has designed an excellent solution to handle those requirements.
Battery energy is converted to motive power by a Café Electric Z2K Motor Controller. These incredible devices are capable of throttling currents up to 2000 amps and potentials as high as 375 volts.
Two modified 6.7 inch Model L-91 Advanced DC Motors pull a direct chain drive to the rear wheel.
KillaCycle Features
The KillaCycle uses about $0.07 worth of electricity for each run down the strip.
The bike only uses ~300 W-hr / mile, including the burn-out
Including burn-outs, the KillaCycle could make 7 or more runs on one charge.
Recharges in under 4 minutes. (Limited by charger.)
Zero to 60 MPH in 0.97 seconds.
Silent, aside from the chain and some tire noise.
The KillaCycle weighs 653 lbs.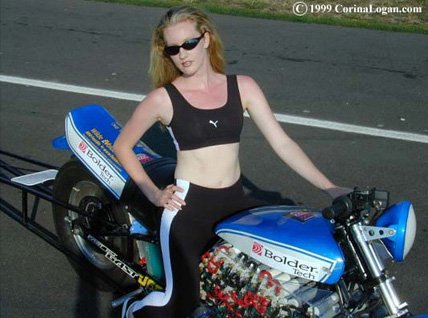 The KillaCycle Team has been invited by the
All Harley Drag Racing Association
to run exhibition at their national event at the
Auto Club Raceway
in Pomona, CA on Nov 9th and 10th.
More Information at:
KillaCycle